September 27-28, 2022
This Power Morning will include a presentation of Safe 4 the Rights Reasons – the
game changing safety message that gets employees to adopt safe behaviors because
the WANT to not because they HAVE to. It will also reveal the Key components to a
Successful Safety Culture – by addressing these topics your potential for success goes
through the roof in eliminating incidents and injuries.

Our Power Mornings are INFORMATIONAL they are NOT SALES PITCHES – No
obligation and you will walk away with information and tips you can implement
immediately.

This event is brought to you by DiVal Safety – it is a FREE event but you must be
registered to attend (4 attendees per company maximum)
https://www.eventbrite.com/e/dival-power-morning-safe-4-the-right-reasons-tickets-354686465767
July 20th, 8:30-11:30, Hilton Garden Inn, Spartanburg, SC.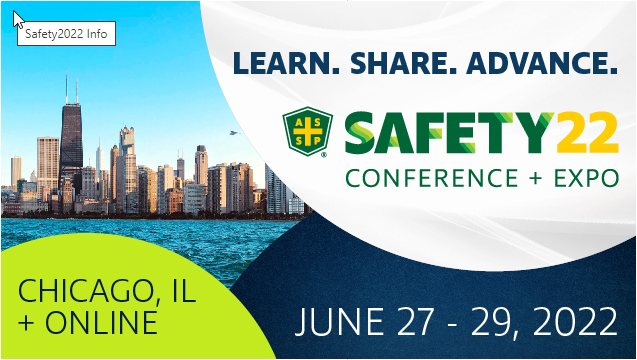 Join us in Chicago – or online – June 27-29! Challenge what you know about workplace safety and the occupational safety and health profession, connect with colleagues and take away new ideas!
The ASSP Western Carolina Chapter SPY award is an honor acknowledging the dedication and outstanding contributions of a member to our chapter. To be eligible nominees must:
Be a Professional Member, Member or International Member in good standing of their Chapter
and the Society.
Not have received this award within the past five (5) years.
Be engaged in full-time employment in the profession of protecting people, property and the
environment.
Nominees are not eligible if they are currently serving as a member of the Board of Directors or the Chapter Awards Committee, or have been elected an ASSP fellow.
Submissions due by May 6th, please see the nomination form for more details. The WC SPY 2020 will be announced that the Western Carolina Safety School on May 19th.