Congratulations to the 2021-2022 Chapter Executive Board!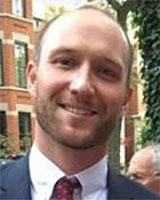 Chapter President
Matt Gruber
Matt has ten years of Occupational Safety and Health experience. Matt spent six years in the Pulp and Paper industry, with progressive roles as a regional, corporate and business unit Industrial Hygienist. Matt has been with NC-OSH for three years, where he partners with local employers to identify hazards, determine risk and assists with corrective actions. Matt earned a bachelor's degree from the University of Montana in Human Biology and a master's degree in Industrial Hygiene from Montana Tech. Matt is a certified Industrial Hygienist (CIH) and Certified Safety Professional (CSP). Matt lives in Asheville, NC and spends his free time outside, recreating throughout WNC.
President Elect
Scott Hager
Scott is currently the Safety and Environmental Manager for Kewaunee Scientific Corporation and has also worked in the residential furniture and polyurethane foam industries. Scott is a Certified Safety Professional and Emergency Medical Technician and has 20 years of EHS experience. Scott is a past Chapter Treasurer, VP of Programs, President Elect and President. Scott lives in Hickory, NC and spends his free time kayaking, fishing, camping and hiking.
Chapter VP of Programs
Ashley Heien
I have been an active student member since August of 2019, and the experiences I've had during this time have been extremely rewarding. I am looking forward for the opportunity to give back and contribute more to our chapter.
I am dedicated to a lifetime of learning, and I'm eager to get involved in roles that allow me to be a productive and active safety professional. Currently, I work for a General Contractor in the safety department and am on track to graduate with a master's degree in Occupational Safety in May, 2021.
Chapter Treasurer
Gary Barger
Gary is currently Director of Corporate Safety for Bernhardt Furniture Company. Gary is a Certified Safety Professional and has served for more than 30 years in Industrial Safety Leadership . Gary has served as Chapter President for 2 terms and has been Chapter Treasurer since 2009. Gary was recognized as Safety Professional of the Year in 2019 by the North Carolina Statewide Safety Conference.
Chapter Secretary
Peter Boccardo
Peter Boccardo has spent the last year as the Director, Business Development for Chubb Global Risk Advisor who is a global EHS service provider. Prior to that he spent 8 years with Herman Miller, a commercial furniture manufacture as an Ergonomic Consultant selling business to business. While there Peter became certified as an office ergonomics evaluator through NC State ergonomics center where he provided ergonomic evaluations for customers. Peter is originally from the North East but has spent the last 7 years in North Carolina. When he is not spending time with his wife and 3 kids he enjoys visiting a brewery, hiking, mountain biking, playing frisbee golf or finding the next best pizza joint! He aspires to network and learn more about the safety world and has a goal of becoming a CSP.